D. Bradley McWilliams School of Biomedical Informatics named for generous gift to advance new solutions for health care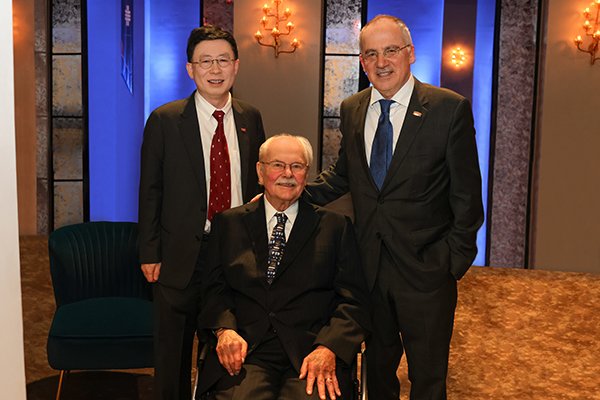 D. Bradley "Brad" McWilliams has made a transformational commitment of $22 million to UTHealth Houston School of Biomedical Informatics that will enable the school, one of the largest biomedical informatics programs in the world, to accelerate its mission to reshape the future of medicine and health care through artificial intelligence, data science, and informatics.
In gratitude for the gift, the school is now named D. Bradley McWilliams School of Biomedical Informatics at UTHealth Houston.
"Brad has made an indelible mark on the university as a longtime partner and advocate, and this extraordinary gift reiterates his legacy as a champion of health care innovation," said Giuseppe N. Colasurdo, MD, president and Alkek-Williams Distinguished Chair at UTHealth Houston. "We are honored that the School of Biomedical Informatics will forever carry his name, and grateful for the possibilities this gift has unlocked."
The gift caps the university's Many Faces. One Mission. campaign, which raised $534.4 million to secure the institution's future as a top health sciences center. D. Bradley McWilliams School of Biomedical Informatics is the third UTHealth Houston school to be named after receiving a transformational gift during the campaign, joining John P. and Kathrine G. McGovern Medical School and Jane and Robert Cizik School of Nursing.
McWilliams, a Houston business leader, and longtime UTHealth Houston supporter and Development Board member, has a legacy of giving to the Houston community and said he felt that a gift to the school would further community health.
"This gift was a chance to help every school at UTHealth Houston because the School of Biomedical Informatics works with all of them," McWilliams said. "Artificial intelligence will be a tremendous benefit for advancing health in the long term for all the schools, and they are leading the charge at the School of Biomedical Informatics."
His gift will support innovative research, faculty, and students to develop technology through data science, artificial intelligence, and machine learning that instantaneously detects, analyzes, and directs treatment to reduce patient morbidity and mortality. The motto of the school is "Transforming Data to Power Human Health.™"
"Informatics is rapidly evolving to produce ever greater numbers of increasingly advanced applications for improved patient care, disease prevention, and biomedical discovery," said Jiajie Zhang, PhD, dean of the school and holder of The Glassell Family Foundation Distinguished Chair in Informatics Excellence. "We are deeply grateful to Brad for empowering our faculty and students to leverage cutting-edge data science and computational tools to accelerate the pace of discovery."
An innovation fund established by the gift will enable the school to jumpstart promising research to quickly obtain the preliminary data needed to compete for larger research funding opportunities, while the endowed D. Bradley McWilliams Research Fund will allow the school to continue this work into perpetuity and remain a leader in artificial intelligence and data science for health care and medical research.
A portion of the gift will support endowed faculty appointments to recruit and retain exceptional leaders in the field. Doctoral scholarships to students in their first year of study and a D. Bradley McWilliams Scholars program will provide much-needed philanthropic student scholarship support.
"His visionary investment will have a significant impact on the school and on health care, and we are deeply grateful for his partnership," Zhang said.