In Memoriam: James "Jim" Turley, PhD, RN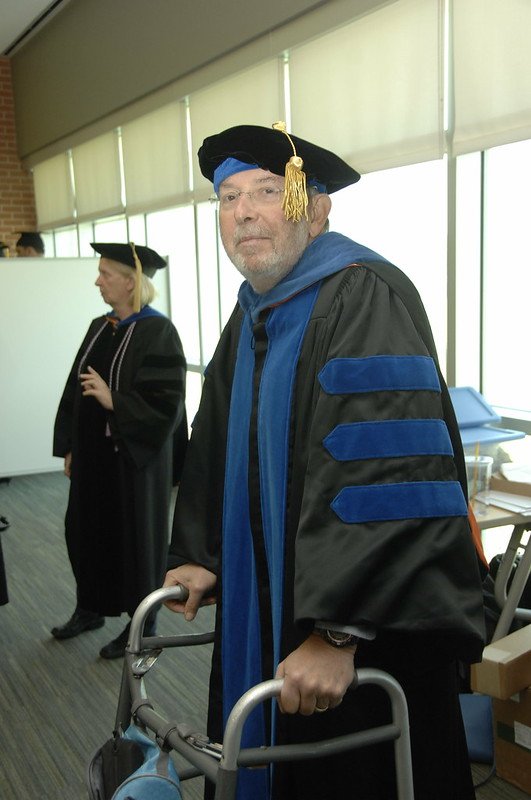 James "Jim" Turley, PhD, RN, a retired Associate Professor and one of the founding members of the School of Biomedical Informatics (SBMI), died tragically on April 18, 2021 after being struck by a vehicle while bicycling in Houston, TX. His legacy of supporting and educating informatics leaders will always be remembered by his former students and colleagues.

Born January 1, 1948, Turley held two undergraduate degrees; BSN in Nursing and BA in Philosophy. After earning a MSN from Case Western Reserve University, he went on to earn a PhD in Community Health Education from the University of Oregon.

Turley started at UTHealth's Cizik School of Nursing in 1987 where he served as an associate professor until 1991. From Aug. of 1991 to Aug. of 1993, he worked as a National Library of Medicine Postdoctoral Fellow at the University of Minnesota. He returned to Cizik in the latter half of 1993 and spent five more years teaching there before starting at the School of Allied Health Sciences (SAHS) as an associate professor and vice chair of the Department of Health Informatics in 1997. SAHS was later renamed the School of Health Informatics Sciences in 2001 and was finally named the School of Biomedical Informatics (SBMI) in 2010. During his tenure at the school, he was instrumental in creating the Master's and PhD programs. He retired from SBMI in 2012.

SBMI Dean and The Glassell Family Foundation Distinguished Chair in Informatics Excellence Jiajie Zhang, PhD had the great pleasure of working with Dr. Turley while he taught at SBMI. "Dr. Turley helped the school define and frame what informatics education is," recalled Zhang. "He was innovative and really grasped how impactful informatics was to revolutionizing health care. His passion and commitment to educating our students was unmatched and I will forever be grateful for his leadership, vision, and friendship."

Turley was recognized for his teaching and informatics excellence at SBMI, UTHealth, and within the informatics community. During the 1999-2000 academic year, Turley was named the John P. McGovern Outstanding Teacher Award winner at SBMI. In 2002, Turley received the President's Scholar Award for Teaching at UTHealth for his role in creating the academic programs at SBMI. Turley was also given the distinction of "Nursing Informatics Pioneer" by the American Medical Informatics Association (AMIA). Turley's informatics research focused on visual display of clinical data and its effect on clinical decision-making.

Associate Professor and SBMI Alumna Julie Brixey, PhD earned her doctoral degree in 2006 and Turley served on her PhD Committee. She describes him as "a respected national and international informatics researcher, a recognized pioneer in nursing informatics, a mentor, a good listener, an accomplished photographer, diver, and bicyclist." Beyond these many outstanding characteristics, he was most importantly her lifelong friend. Brixey continued saying "Jim always knew someone to connect you with to help with your research, publication, or career. Typical of nurses, he always kept me on task with the goal of completing my dissertation. He is also the reason why I returned to SBMI as a faculty member after earning my degree and I will forever miss his friendship."

Two-time SBMI Alumna Constance Johnson PhD, MS, RN currently serves as the associate dean for research at UTHealth's Cizik School of Nursing and a part-time SBMI faculty member. She fondly recalls the support and mentorship Turley provided during her academic tenure and in the years after. "Jim always reminded me that work in academia is never finished, so we must remember to enjoy the life we have, to network with others, and always choose conferences in the best places," stated Johnson.

In 2018, Turley donated to SBMI and started the James Turley Endowed Scholarship for Global Health. The scholarship, which was matched thanks to the UTHealth Game Changers Initiative, supports SBMI's international students who intend to practice outside of the United States in underserved medical communities where there is a health-professional shortage. When he made the gift, Turley stated, "Beyond offering financial assistance to SBMI students, I want to encourage them to utilize informatics practices all over the world as they do their part to improve health care globally."
Dr. Turley's wife, Lillian Eriksen, DSN, MN, created the Lillian Eriksen Memorial Endowed Scholarship for Global Health. Similarly, the fund provides scholarships for international students at the Cizik School of Nursing targeting students who plan to practice in medically underserved communities.

Turley's legacy at SBMI will continue on not only through the scholarship he funded and his influence on informatics education, but also through the relationships be built over his storied career. Dr. Eriksen preceded him in death in 2012. He is survived by his sisters Pat and Rita, his brother Rick, five nieces and nephews, 10 grand nieces and nephews, and a host of other loved ones and friends.
published on 04/22/2021 at 1:15 p.m.