McWilliams School of Biomedical Informatics displays its new name to the world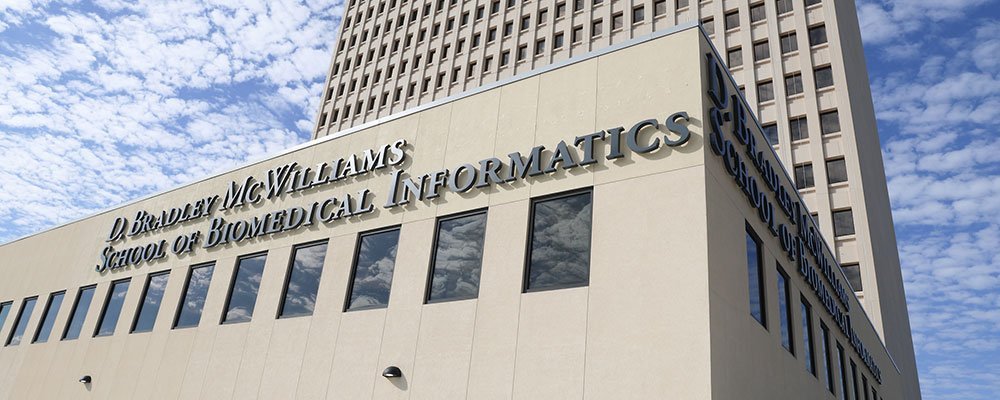 (Photo by Priscilla Dickson)
University leadership and donors gathered to celebrate the newest lights in the Texas Medical Center at 7000 Fannin St. — bright signage officially marking UTHealth Houston as the home of D. Bradley McWilliams School of Biomedical Informatics.
The city of Houston also designated Thursday, Nov. 2, 2023, as "D. Bradley McWilliams Day" via a proclamation from Mayor Sylvester Turner, in honor of McWilliams' transformative gift to advance the school's mission to reshape the future of medicine and health care through artificial intelligence, data science, and informatics.
This gift comes at a most auspicious time — at the beginning of the artificial intelligence revolution," said Dean Jiajie Zhang, PhD, the Glassell Family Foundation Distinguished Chair in Informatics Excellence. "We have all observed the excitement surrounding AI and its applications such as ChatGPT. This is the beginning of this promising field and its immense potential to transform health care.
The $22 million gift capped the university's Many Faces. One Mission. campaign, which raised $534.4 million to secure UTHealth Houston's future as a top health sciences center.
"This school has wonderful potential," McWilliams said at the event. "I envision it becoming a leading school in the country and the world for informatics and AI. This school will continue to grow and shine a light on UTHealth Houston."
Research funds established by McWilliams will enable the school to jumpstart promising research in perpetuity, helping the school remain a leader in artificial intelligence and data science for health care and medical research.
It also will support endowed faculty appointments to recruit and retain exceptional leaders in the field. Doctoral scholarships through the D. Bradley McWilliams Scholars program will be used to attract the brightest PhD students to the school and support their first year while they explore their interests and projects with different research groups.
"In Brad McWilliams, we have found a true partner who can envision the unparalleled potential of informatics to not only advance all the schools at UTHealth Houston but our entire health care system," Zhang said. "We are incredibly honored to carry on his name and for the trust he has placed in us."
Zhang also took a moment to reflect back. The school was founded in 1997 with five faculty and 14 students. Decades years later, the school now has 65 faculty and nearly 500 graduate students.
We started very early with the vision of building technology to change health care," Zhang said. "We are the biggest informatics school in Texas and the nation, and in Texas, everything has to be big. This is just the beginning."