SBMI alumnus and postdoctoral fellow earns CPRIT appointment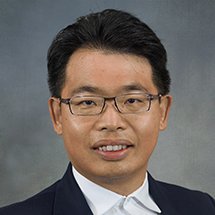 Kang Lin Hsieh, PhD '19, SBMI alumnus and current postdoctoral research fellow, was recently awarded a one-year postdoctoral appointment with the Cancer Prevention & Research Institute of Texas (CPRIT). Hsieh will participate in CPRIT's Computational Cancer Biology Training Program.
The CPRIT program allows postdoctoral researchers from computational disciplines to train in cancer biology and those from the biological sciences can train in computational approaches. The trainees have at least two mentors with unique areas of expertise. These mentors support the fellow as she or he works to address advanced problems. During his program, Hsieh will focus on developing a novel AI system that can detect glioblastomas in their early stage.
"This is a very challenging research topic as there is little understanding of glioblastomas," says Hsieh. "When a patient gets that diagnosis, she or he is usually in the late stages of the cancer development and the average survival time is less than one year."
According to The University of Texas MD Anderson Cancer Center, glioblastomas "contain the most abnormal looking cells and are the most aggressive" form of brain cancer. Additionally, there is currently no cure for it and "with around 12,000 cases diagnoses in the United States each year," Hsieh sees the importance of exploring ways to reach an early diagnosis.
"With the guidance of my mentors, I aim to pinpoint the best method to detect the cancer early on so patients can start interventions more quickly. This will allow researchers the ability to examine the efficacy of early treatment," continued Hsieh. Two SBMI faculty mentors will guide Hsieh in his research: Professor Xiaoqian Jiang, PhD and Assistant Professor Shayan Shams, PhD. Pratip Bhattacharya, PhD of MD Anderson is also serving as a mentor.
During his research, Hsieh will use mice to mimic the progress of glioblastomas in the human brain. Currently, Dr. Bhattacharya and his team have developed three mice cohorts that each represent varying forms of glioblastomas – from the most aggressive form to the least aggressive form. The researchers have already collected different types of information including metabolic data from hyperpolarized MRI scans and genomic information at unique time points. However, these varying types of data have created a bottleneck in the research and they each represent a small fragment of information. Alone, they are insufficient in reaching an early glioblastoma diagnosis. However, when the multiple sources are combined, they offer a clearer picture for how to make an early diagnosis.
"By using deep learning tools, we can handle multiple sources of information at once," Hsieh notes. "This is why we will utilize AI and deep learning – they allow us to build a powerful resource for early detection of glioblastoma in the mice model."
As Hsieh and his mentors begin their work, Dr. Bhattacharya's team will focus on how to use cutting-edge technology. One resource the team will utilize is a hyperpolarized MRI which is 10,000 times more enhanced than a conventional MRI. The SBMI researchers will contribute the deep learning tools to detect the composite signal from multiple sources of information for early detection. Hsieh has both AI and clinical expertise so his knowledge will act as a bridge between both fields within the project. Ultimately, he wants to develop explainable prediction models.
The first step is to use the state-of-art AI image model, along with some preliminary data, to begin finding explainable solutions that lead the researchers to earlier glioblastoma detection. Hsieh says that the research team "will search for multiple gene expression patterns that can be connected to metabolic information collected by hyperpolarized MRI scans and the metabolic information can be further verified by the progress for the cancer."
Hsieh's 12-month fellowship began on Jan. 1 and there is an opportunity for a re-appointment to continue the work into a second year.
published on 02/01/2021 at 10:30 a.m.