UT Physicians Clinical Data Warehouse
UT Physicians is the clinical practice of The UTHealth McGovern Medical School. With more than 1,500 clinicians certified in 80 medical specialties and subspecialties. physicians and clinical locations throughout the Greater Houston area, it is the fastest growing academic practice in the nation – for the last five years – as ranked by the Association of American Medical Colleges.
All UT Physicians outpatient EHR data are stored in a Clinical Data Warehouse (CDW). Currently, information from the UT Physicians outpatient practice (Allscripts), UT Physicians billing database (IDX), UT Dental Branch's billing and imaging data (AXIUM), and de-identified data from several Memorial Hermann Hospital sources are available to members of UTHealth. The data are derived from about 1.8 million patients. A backend database with about 3.2 million records is also available as a data dictionary for running complex queries.
The Clinical Data Warehouse (CDW) is maintained by the Biomedical Informatics Core led by Dr. Elmer Bernstam. For more information, please visit The Vision of the Biomedical Informatics Group (BIG)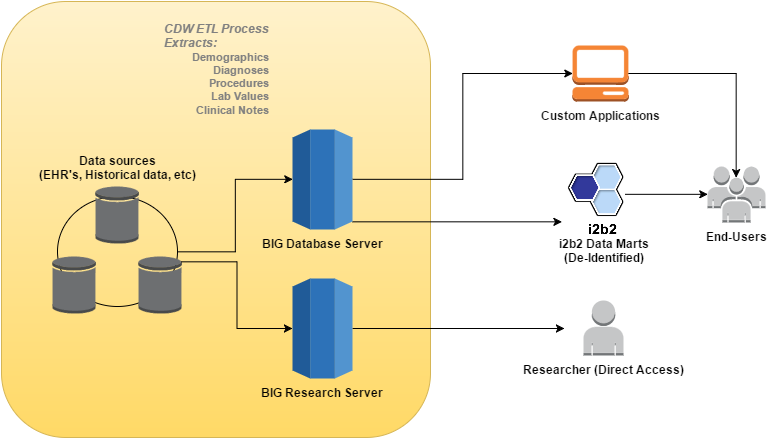 Process for Data Access
Researchers interested in using CDW data for a clinical study will first need to complete a Request For Data form. The request will be sent to the CCTS Technology Manager for review; if the request is research-oriented and involves PHI, IRB approval will be needed. After approval, the CCTS technology team will begin processing the data request, communicating preliminary results to the researcher(s) to facilitate data quality and validation assessments. The CCTS IT staff provide follow-up support to researchers on issues such as data management and use.

Read Access to Clinical Data for a description of the request process and the related HIPAA requirements.