Houston Emergency Opioid Engagement System (HEROES)
The opioid epidemic is growing
There is a continuous rise in opioid-related overdose deaths, in Texas and across the nation. We have nearly one death every 32 hours involving opioids in Houston alone.
There are between 50 and 100 opioid overdoses every month that gets reported to our Police and Fire department, and about 1 every 3 or 4 are fatal.
Many times, the emergency medical system (whether through a call to 911 or a visit to a hospital emergency department) is where opioid users first present for care.
We hope to provide comprehensive services to keep patients in treatment and recovery.
Our Focus
The Houston ER Opioid System (HEROES) is a joint initiative between the McGovern Medical School and Biomedical Informatics. We aim to navigate patients through the complex recovery journey. Our program incorporates both medical and behavioral support services to engage and retain patients in outpatient treatment.
What we can offer is guidance and patient navigation to help connect you to care and ongoing recovery coaching.
We currently have nearly 150 patients enrolled in our cohort.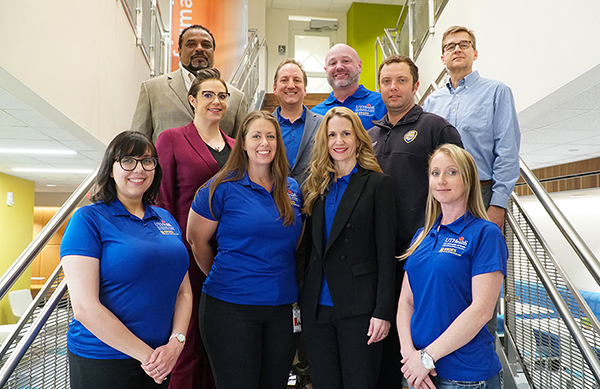 Program Leadership
James Langabeer, PhD, EdD, FACHE is a professor and program director for the Houston ER Opioid System. As a cognitive scientist interested in how people make choices, he focuses on addiction and emergency medicine. He is a member of the American Society for Addiction Medicine and the American Psychological Association. Dr. Langabeer's clinical research has been published in top-tier journals including Pediatrics and Annals of Emergency Medicine.
Tiffany Champagne-Langabeer, PhD, MBA, RD focuses on the health policy and informatics components of the program. Her research on use of telemedicine and health information exchanges to improve public health has been published in over a dozen journals.
Kimberly Chambers, MD is an assistant professor of emergency medicine and is a practicing physician at both Memorial Hermann Hospital and LBJ. Dr. Chambers is one of the first emergency physicians in Texas to receive approval for maintenance and detoxification treatment of opioid addiction in the ED.
Samuel Prater, MD is the Medical Director at Memorial Hermann Hospital TMC, and is an assistant professor of emergency medicine. Dr. Prater is also the interim co-chair of the department of emergency medicine at UTHealth McGovern Medical School.
Anand Gourishankar, MBBS, MRCP is an associate professor of pediatrics at UTHealth and an attending physician at Memorial Hermann Hospital.
Andrea Yatsco, PhD, CADC serves as a research scientist and is a nationally Certified Alcohol and Drug Counselor. Andrea has worked in corrections, human services, and as adjunct faculty teaching on topics of psychology, substance use, criminology, and criminal justice.
Katherine Kirages, MSW serves as program coordinator. Katherine is trained as a social worker and helps to provide coordination of care for patients across the system.
Jessica Yeager, PRS/ICRC, PM/PRC is a certified peer recovery support specialist. She has won numerous awards for her work with patients in opioid recovery.
Mark Kakos, LCDC is the HEROES program's licensed chemical dependency counselor, providing free professional counseling services to participants in our program.
Simone Lee Joannou, MA is our Administrative Analyst, providing novel insight into making our program run as smoothly and successfully as possible. She has an undergraduate degree in psychology and her master's in Philosophy, focusing on Ethics in Mental Health Care.
Meredith O'Neal is the HEROES Research Assistant, providing essential data collection and analysis for the program. She will be graduating with her MA in Medical Anthropology in August 2019.
Program Description
About this Study
The purpose of this study is to identify the prevalence of opioid use disorder and opioid-related overdoses across Southeast Texas, and to develop a comprehensive care coordination system to improve retention of patients in long-term treatment. We will help patients engage in treatment, recovery, and follow-up to improve their chances of long-term recovery and improved quality of life. Our program involves novel medication in the emergency department, follow-up from licensed emergency medical technicians, outpatient medication-assisted treatment, and ongoing recovery coaching. Our program is funded by an award from the Texas Health and Human Services Commission, through the federal Substance Abuse and Mental Health Services Administration (SAMHSA) targeted opioid response program.
Participation Eligibility
Participant eligibility includes adults over 18 years with history of prior opioid-related overdose or opioid use disorder.
Collaborators
This comprehensive system of care involves participation with emergency physicians, psychiatrists, emergency medical technicians (EMT), licensed professional counselors, certified recovery specialists, pharmacists, police and fire departments.
Some of our partners include:
Latest News and Media for HEROES
Heroin and Addiction across Houston (CBS KHOU Channel 11)
Opioid Abuse and the HEROES program (NBC Channel 2)
The Risk of Drug Overdoses during the Holidays (Fox 26 TV)
An innovative program for opioid use disorder (Fox News)
Tackling the Houston opioid epidemic (Houston Public Radio)
Building the Houston Emergency Opioid Engagement System
HEROES Program earns additional funding through end of 2020
HEROES team publishes in the Journal of Addiction Medicine, "Disparities Between US Opioid Overdose Deaths and Treatment Capacity: A Geospatial and Descriptive Analysis
Follow HEROES on Facebook
How to get help
If you are looking to enroll in our program, please contact our program coordinator by email at heroes@uth.tmc.edu. Or call us at 713-500-3597.
The first step involves meeting in person to complete an informed consent and other necessary paperwork. We will then walk you through the program's benefits and time commitment.
Patient Resources
Substance Abuse and Mental Health Services Administration National Helpline
https://www.samhsa.gov/find-help/national-helpline
What is Buprenorphine and how can it assist in medication-assisted treatment?
https://www.samhsa.gov/medication-assisted-treatment/treatment/buprenorphine
Drug Overdose Deaths by State
https://www.cdc.gov/drugoverdose/data/statedeaths.html