SBMI Associate Dean honored with 2019 Regents' Outstanding Teaching Award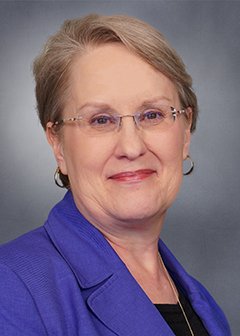 McWilliams School of Biomedical Informatics at UTHealth Houston, formerly UTHealth Houston School of Biomedical Informatics (SBMI) Associate Dean for Academic Affairs and Professor, Susan Fenton, PhD, RHIA, FAHIMA, has been selected to receive the 2019 Regents' Outstanding Teaching Award from The University of Texas System. She is one of 27 educators from UT System's 14 academic and health institutions to receive the prestigious annual award.
The Regents' Outstanding Teaching Awards program, also called ROTA for short, was established by the Board of Regents in 2008. It is among the nation's largest awards programs that recognizes educators in higher education. The Board of Regents has presented more than $20 million to over 700 UT educators since 2008.
"Receiving this award is both an honor and a privilege," stated Fenton. "Nothing happens in health without data and information; my students hear me say this multiple times each semester. That is what drives my passion for teaching biomedical and health informatics to as many interested people as possible, both on campus and in the community at large."
Fenton joined McWilliams School of Biomedical Informatics in June of 2013 as an assistant professor and less than six months later, she earned the title of Assistant Dean for Academic Affairs. In August of 2014, Fenton was named associate dean of Academic Affairs and professor. Fenton has ushered McWilliams School of Biomedical Informatics through several years of record-breaking semesters of student enrollment while also helping to create new courses and more enriching curriculum. She also spearheaded the creation of McWilliams School of Biomedical Informatics newest degree, the Doctorate in Health Informatics, and directed the effort to make updates to McWilliams School of Biomedical Informatics Applied Master's program so it could earn CAHIIM accreditation.
"These educators are dedicated to continually looking for new and better ways to inspire students to learn and succeed," Board of Regents Chairman Kevin Eltife said. "And they're ensuring the next generation, whether they be teachers, scientists or health care providers, is armed with passion and knowledge. Their contributions are immeasurable."
All awardees receive $25,000 and will be presented a certificate and medallion during the Board of Regents meeting in Austin on Aug. 14. Additionally, a luncheon will be held in their honor in conjunction with the meeting. Fenton is one of two awardees from UTHealth. Manickam Kumaravel, MD, a faculty member at McGovern Medical School, is the other awardee.
"I want to congratulate Dr. Fenton as UT System recognizes her work as an exemplary educator," said The Glassell Family Foundation Distinguished Chair in Informatics Excellence and Dean Jiajie Zhang, PhD. "Over the past six years, Dr. Fenton has worked diligently to provide students with an exceptional level of education as she prepares them for the ever-changing field of biomedical informatics. She is very deserving of this award."
ROTA nominees undergo a series of rigorous evaluations by students, peer faculty and external reviewers. The review panels consider a range of activities and criteria in their evaluations of a candidate's teaching performance, including classroom expertise, curricula quality, innovative course development and student learning outcomes.
"I take great pride in touching and influencing students who carry their learning back to their organizations and improve patient care, "noted Fenton. "Each semester, I celebrate when I hear students say 'I was able to use what I learned in class at work.' So I could work in a variety of roles in healthcare, but that limits my reach. By teaching, I am the stone being dropped into the pond."
Visit the UT System website for more information on the ROTA.
published on 07/01/2019 at 9:26 a.m.