Volume 8, Issue 13
August 23, 2018
Fall 2018 Course Registration Closing Soon
Reminder SBMI Students: Regular registration for fall 2018 closes on Friday, Aug. 24 at 5 p.m. CST. Late registration is from Aug. 27 – 31. Late fees will be assessed so remember to register before that deadline to avoid paying any additional fees.

The semester begins on Monday, Aug. 27 so make sure you register for your courses today.

SBMI Launches Doctorate in Health Informatics

In fall 2019, SBMI will start the school's newest, graduate program – the Doctorate in Health Informatics (DHI). The DHI is the first advanced, practice degree in health informatics in the nation.

This program offers unique curriculum custom-built for advanced professionals seeking a terminal, applied degree in the field of health informatics. In order to apply, applicants must have documented executive or management-level healthcare experience.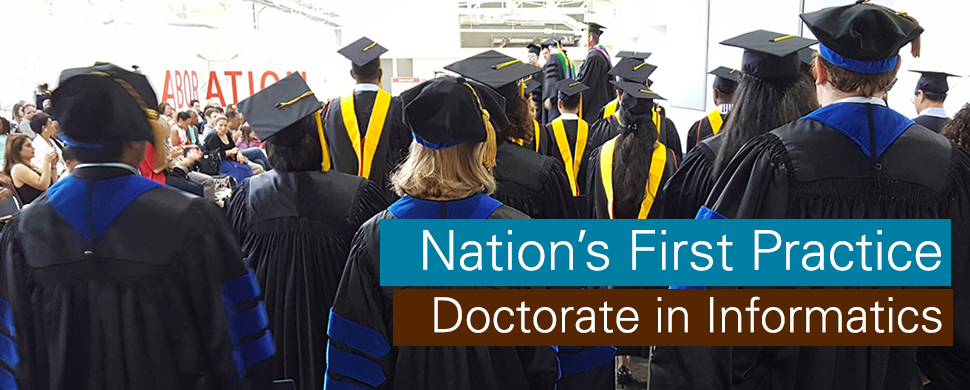 The practice doctorate provides informatics leaders with the advanced education required to translate evidence from original research, evaluate current practices, and utilize critical thinking to accelerate the adoption of best informatics practices in clinical and healthcare organizations. Because the program is meant for working professionals, instruction for the DHI is in a hybrid environment with more than 50% of the coursework taught online. Rather than write a dissertation for the culminating project, the DHI program requires a large-scale translational project that students must complete in a healthcare organization.
Amy Franklin, PhD Named Assistant Dean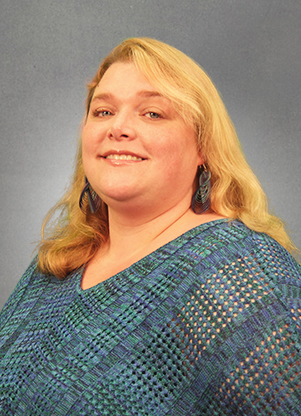 Effective Sept. 1 of this year, Associate Professor Amy Franklin, PhD will serve as Assistant Dean. In her new role, Franklin will focus on SBMI's faculty affairs, government and public relations, philanthropic initiatives, and business development efforts.
"I am so proud to serve SBMI as an assistant dean," noted Franklin. "After spending almost nine years with the school, I am happy to start a new chapter and expand on my duties at SBMI."
Read more about Dr. Franklin's new role.
Distance Education Announcements & Reminders for Fall 2018
The fall 2018 semester will start on Aug. 27, 2018 and class add/drop via MyUTH will run from Aug. 27 to Sep. 12. Please refer to the academic calendar for other important dates as well as events including local conferences and TMC Library workshops. Courses offered this semester, as well as classroom information, can be found on the semester schedule page.
To complete required coursework at SBMI, students should check and make sure their computer meets the technical requirements.

Students are enrolled in a Canvas course automatically after registering on MyUTH. However, it may take up to 24 hours for a course to appear in your "Courses" list in Canvas. Students should click on the "Panopto Recordings" link in each of their Canvas courses to activate access to Panopto videos in that course.
If you have any question about Canvas or other educational technology at SBMI, please contact de@uth.tmc.edu
SBMI Bragging Points
Members of the SBMI Community have recently achieved noteworthy accomplishments. We want to recognize them and applaud their accomplishments.
The National Institute of Dental & Craniofacial Research, part of NIH, awarded Assistant Professor Peilin Jia, Ph.D. a $305,000 grant recently. The grant project is titled "Deep learning methods to predict the function of genetic variants in orofacial clefts."
M.S. Student Lingyi Tang was appointed to the HIMSS Innovation Committee for
a two-year term in late-July.
Associate Professor Xiaoqian Jiang, Ph.D. was recently awarded tenure. Jiang is
also the founding director of the planned Center for Health Data Security and Phenotyping.
If any SBMI alumni or current students want to announce a recent professional accomplishment in a future Academic Update, please share the details with Chelsea Overstreet via email at Chelsea.E.Overstreet@uth.tmc.edu.

TMC Library's New Authentication System

The TMC Library recently changed its method for accessing electronic resources to a new product called OpenAthens. The new system offers several new features, including Single Sign On (SSO). This will make login easier for SBMI users.

Visit the TMC Library website at http://libguides.library.tmc.edu/OpenAthens/SignIn for information on logging in to OpenAthens. If you have difficulty, please contact http://askus.library.tmc.edu/ the TMC Library Staff.

Please note that users can copy the link to PubMed found on the TMC Library Resources page for bookmarking. You will not be prompted for your login when you access PubMed, but rather by the provider of the first full-text item you access via your PubMed search.

McGovern to Host "Space Chat"

McGovern Medical School will host a live chat with alumna and astronaut Serena Auñón-Chancellor, MD while she is on the International Space Station. The live, 20 minute talk will take place between 9 - 11 a.m. Thursday, Sept. 27 in MSB.3001. A more specific timeframe will be provided by NASA as the date approaches.

A list of about 20 questions will be curated from submissions from the UTHealth community. Please note that due to time limitations and NASA approvals, not all submissions may be used. The deadline for submitting questions is Sept. 1, and can be sent to devan.santora@uth.tmc.edu.

Visit the McGovern website for more information.

Scholarship Opportunities Available to SBMI Students

There are several scholarship opportunities currently available that SBMI wants our students to be aware of.
Applications are now being accepted for several HIMSS 2018 Scholarships. Most of the applications are due by Sept. 10, 2018 at 11:59 p.m. CST. Visit the scholarship website to apply or get more information.
The AHIMA Foundation is accepting three types of scholarship applications. Each scholarship has specific and unique requirements so please visit the AHIMA Foundation website for more information and for details on how to apply. All AHIMA scholarship applications are due by Sept. 30, 2018 at 11:59 p.m. CDT.
The Center for Precision Health
We want to introduce SBMI's Center for Precision Health (CPH) to all the new students. CPH sponsors the Translational Bioinformatics track offers at SBMI.
CPH is a joint enterprise between the SBMI and UTHealth's School of Public Health (SPH). CPH was established in January 2016, with the funds approved by the Texas Legislature to enhance biomedical and health informatics education and research in the State of Texas in the era of big data and precision medicine. The founding director, Zhongming Zhao, PhD, was recruited from the Department of Biomedical Informatics, Vanderbilt University Medical Center.
The mission of the CPH is to develop, implement and evaluate novel informatics and analytic approaches to advancing precision health, including basic, translational and population research aiming to promote prevention, improve treatment efficacy, and ensure patient safety. CPH currently has four high priority research areas: (1) Population-based Genomics for Precision Health, (2) Cancer Precision Medicine, (3) Translational Bioinformatics, and (4) Smart Clinical Trials. Currently, CPH has recruited eight tenured or tenure-track faculty, as well as eight affiliated faculty (including four CPRIT scholars). For more details, visit the CPH website: https://www.uth.edu/cph/.
The CPH core faculty are:
Dr. Han Chen from Harvard University
Dr. Luca Giancardo from MIT
Dr. Assaf Gottlieb from IBM (and previously Stanford University)
Dr. Arif Harmanci from Yale University
Dr. Peilin Jia from Vanderbilt University Medical Center
Dr. Xiaoming Liu at UTHealth
Dr. Zhongming Zhao from Vanderbilt University Medical Center
Dr. Degui Zhi from The University of Alabama at Birmingham
The Translational Bioinformatics Track has several courses in translational bioinformatics: Statistical Genomic Data Analysis, Foundations of Pharmacogenomics, Systems Medicine: Principles and Practice, Medical Imaging and Signaling Pattern Recognition, Current Topics in Genomic Medicine, Advanced Clinical and Translational Bioinformatics, Genomics and Personalized Medicine, Seminar in Precision Medicine. You can review a list of all courses on the SBMI Course Catalog.
SBMI students received an email earlier this week listing all Translational Bioinformatics courses for fall 2018. We encourage students to review the list and register for courses they find interesting. For more information on the CPH or any Translational Bioinformatics courses, please contact Dr. Zhao at zhongming.zhao@uth.tmc.edu.
Reinstatement Fee Reminder
This is a reminder to all SBMI students that effective fall 2018, UTHealth's new Reinstatement Fee will be implemented. The fee is $200 and it will be assessed to students who have not paid 50% of the current term's tuition and fees by midnight on the 12th day of class (Sept. 12).
Students who are assessed this fee will have access to their class schedules and the Learning Management System (Canvas) removed until all tuition and fees due have been received by the university. Once a student has paid the tuition and fees due, along with paying the $200 Reinstatement Fee, access to class schedules and Canvas will be reinstated.
AMIA Student Volunteer Applications Due Aug. 27
The 2018 Annual Symposium will be held in San Francisco, CA at the Hilton San Francisco Union Square from Nov. 3-7. AMIA is currently accepting applications for Student Volunteers for the 2018 AMIA Symposium. Be advised that Monday, Aug. 27, is the deadline to apply. Applications must be in by 11:59 p.m. EST.
AMIA Student Volunteer duties may include:
Checking for specific conference badges
Collecting tickets for tutorials
Taking a head count at all monitored sessions
Being available if meeting attendees have questions
Monitoring space in rooms that have become crowded, requesting extra seating when needed
Distributing hand-out materials when appropriate
Assisting speakers with AV needs (adjusting lighting, contacting AMIA staff regarding problems with room temperatures, urgent AV issues, etc.)
For more information or to submit an application, visit AMIA'S Student Volunteer Program.
HIMSS Accepting Poster Proposals
HIMSS19 will take place in Orlando from Feb. 11-15 in 2019. HIMSS is currently accepting proposals for various poster presentation categories. Students, early careerist and other professionals can submit proposals for over 20 different topics and must meet several criteria in order to apply.
Poster presenters will receive the following:
Professional visibility
One complimentary registration to the 2019 Annual HIMSS Conference & Exhibition
Five HIMSS advancement points
For all the applicant requirements and the link for proposal submission, head to the HIMSS website. For questions regarding poster submissions, please contact Maggie Van Vossen (mvanvossen@himss.org), Manager, Professional Development at 312.915.9245.
MITRE Strengthening Eligibility Verification Challenge
MITRE Corporation is hosting a Strengthening Eligibility Verification Challenge to "motivate creative inventors to find ground-breaking approaches to solving the problem of improper enrollment in federal benefit programs."
SBMI students are encouraged to make a student team to compete. For information on the challenge or to register a team, visit the MITRE website.
Upcoming SBMI Recruiting Events



Several SBMI faculty and staff members will be traveling in the coming months to attend conferences to promote our degree programs. We invite any prospective students or alumni in the area to visit us during these events.
Research by Professor James Langabeer, PhD, MBA, on the financial issues experienced by some health care organizations was featured in RevCycle Intelligencer.
Dean Sittig, PhD, SBMI professor, recently found that many healthcare organizations are not following e-health record safety recommendations. UTHealth's Newsroom recently featured a story on his survey and the results.
A Reuters news service story on an e-health record study that included Sittig was also recently published.
Important Dates
| | |
| --- | --- |
| Aug 24 | Tuition & fee payment due to avoid late fee |
| Aug 24 | Regular registration for fall closes |
| Aug 27-31 | Late fee payment - $25 late fee |
| Aug 27 | First class day for fall 2018 semester |
| Aug 27-31 | Late registration in MyUTH |
| Aug 27-Sept 12 | Add/drop via MyUTH for students already registered |
| Sept. 3 | Labor Day - University is closed |