National Center for Cognitive Informatics & Decision Making in Healthcare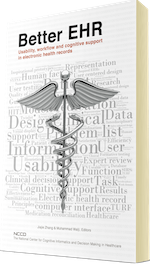 "Better EHR: Usability, Workflow and Cognitive Support in Electronic Health Records" -- a book published by the National Center for Cognitive Informatics & Decision Making in Healthcare. One of the biggest complaints we hear from healthcare providers is that the.. More
The National Center for Cognitive Informatics and Decision Making in Healthcare (NCCD) is funded by the Office of the National Coordinator for Health IT (ONC) under the Strategic Health IT Advanced Research Projects (SHARP) Program, which seeks to support improvements in the quality, safety and efficiency of health care through advanced information technology. NCCD is a consortium of many institutions led by The University of Texas Health Science Center at Houston (UTHealth).
The award was one of four presented by ONC through the American Recovery and Reinvestment Act of 2009 to address key barriers to health information technology. NCCD's research focus area is Patient-Centered Cognitive Support. Dr. Jiajie Zhang is the Principal Investigator of this award, the Director of NCCD, and Dean of the University of Texas Health Science Center - Houston's School of Biomedical Informatics.
To see more about the groups and individuals involved in NCCD, please see our Personnel page. To see more about NCCD projects, please view our Research page.
Research Themes
Analysis of medical error
Distributed cognition and its applications to healthcare
Models of real world collaborative decision making and teamwork
Evaluation of human-computer interactions in the workplace
Design of human-centered health information systems
Information visualization for clinical decision making
Neural basis and computational models of medical decision making
Workflow in healthcare and agent based modeling
Analysis of competent performance for health professionals
Cognitive linguistics and medical decision making
Distributional semantics