Ralph Farr, MD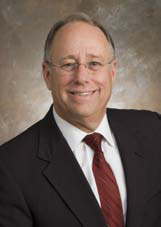 Vice President of Information Services, University of Texas Medical Branch
Farr, who earned his computer science degree from UT Austin and lives in Galveston, oversees the information technology needs of the academic medical center. He has 30 years of experience in information technology, the last five of those in a senior leadership role with the university's Department of Information Services. He currently manages what he calls a world-class team at UTMB of more than 200 charged with providing and managing voice services, data networks, desktop services, the data center, application systems and telemedicine services.
Among his goals, Farr seeks to create a structure to provide information technology services in ways that best support and align with the needs of UTMB's researchers, educators and clinicians. He and his team work to enhance the quality and value of the services they provide to the university.
Before joining UTMB in 1989, Farr led development of information systems at Union Texas Petroleum in Houston. Earlier, he held IT positions with Systems Programming Resources and Brown & Root Inc., both in Houston.