Tobias C. Samo, MD, FACP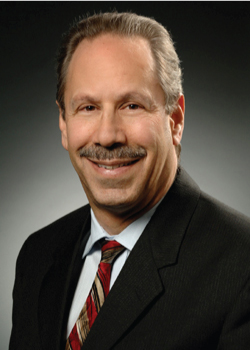 Chief Medical Officer of Allscripts Corporation
As Chief Medical Officer of Allscripts Corporation, Toby Samo works with the company's senior executives to help establish long-term clinical strategy and short-term priorities for Allscripts solutions. Additionally, he is responsible for executive-level and physician client relations.

Previously, Dr. Samo was Medical Director of Information Technology at The Methodist Hospital (Houston, TX), a long-time Allscripts client, and Vice President of Medical Informatics at Physia Corporation. Prior to those positions, Dr. Samo has a long career in private practice as an Infectious Disease physician. In 1984, he began his solo practice and built a group which now consists of five physicians. Infectious Diseases Associates of Houston today performs more than 2,500 consults per year plus has an active clinical research program.
A consultant in healthcare information technology since 2005, Dr. Samo's clients have included not only Allscripts (proposing physician workflow enhancements to Sunrise Enterprise™ clinical solutions) but The Methodist Hospital, Methodist International and St. Luke's Episcopal Hospital, all in Houston, and Gershon Lehrman Group on Healthcare IT.
Among other professional memberships, Dr. Samo is a member of the Texas Medical Association Health Information Technology Workgroup and the Harris County Medical Society HIT Committee. He is a member of the EHRA Patient Safety Work Group. He was Founder and Chair of the Forms Subcommittee of the Medical Records Committee for The Methodist Hospital from 2003-08. From 1996-2005, he served as a founding member of The Methodist Hospital's FORCOM Committee, a multi-disciplinary committee coordinating clinical issues at the hospital.
Dr. Samo has been involved with many regional and national HIT related committees including the HIMSS Advocacy and Public Policy Committee, HIMSS Enterprise Information Systems Committee and CCHIT Inpatient EHR Work Group.
Dr. Samo is a Clinical Professor at both the Department of Internal Medicine Section of Infectious Diseases at Baylor College of Medicine, Houston, and the Department of Medicine at Weill Cornell Medical College, New York City.
After completing his undergraduate work at Rutgers College (New Brunswick, NJ) and medical school at Chicago Medical School (Chicago, IL), Dr. Samo performed his residency in Internal Medicine at Baylor College of Medicine, later receiving his Fellowship in Infectious Diseases at Baylor as well. More recently, he obtained a certificate from Rice University in the area of Medical and Healthcare Management.

Dr. Samo is board-certified by the American Board of Internal Medicine and in the subspecialty of Infectious Diseases.